Mitt intresse för teknik i allmänhet och kommunikation i synnerhet startade någon gång på 50-talet med att bygga en sk 'björntrådstelefon' snart följd av en 'elektrisk' telefon mellan pannrummet och garaget. Det var tillverkad av delar från hörlurar och mekanobitar monterade på backelitplattor.
Min bror Gunnar, numera SM5RCM, hade tillverkat en GridDipMeter i skolan, ett slags examensarbete. Denna GridDippa visade sig användbar till flera saker, bl a gick det att ansluta en högtalare och använda den som mikrofon. Vi sände på mellanvåg, nära Radio Luxenburg som var lätt att hitta och ganska snart började vi exprementera med hur långt vi kunde nå.
Ca två kvarter blev det och vi, dvs Dag, SM5CGN, och jag började känna oss som 'radiopirater'. Dag hade i den vevan fått kontakt med Anders, SM5BJO, och på så sätt kommit i kontakt med amatörradio och vi förstod att det krävdes tillstånd för att få sända.
Intresset för amatörradio växte och många timmar spenderades på att lyssna på bl a SM5WE, Eivin på 40 m AM. Men det var CW vi skulle lära oss så beatoscillator tillverkades för att kunna lyssna på telegrafisignalerna.
Vi började träna telegrafi, sändning och mottagning, och var efter mycket tragglande klara för provtagning i slutet av 1959. Vi lyckades klara provet för C-cert och det stora ögonblicket då licens och tillstånd dök ner i brevlådan var den 7/1 1960. Lyckan var obeskrivlig.
Stationen var snart ihoplödd och några dagar senare hölls första QSO mellan SM5CBN och SM5CGN. Det blev många genom åren men ganska snart flyttade Dag från sta'n och började plugga och våra vägar skildes för att senare endast flyktigt då och då åter korsas.
I loggarna från den tiden hittar man många signaler som fortfarande återfinns på amatörbanden och det är roligt att på nytt återförenas i rena nostalgiträffar och tillsammans minnas hur det var förr.
En annan sändaramatör som tidigt kom att betyda mycket för min amatörradiobana är SM5CAK, Lars i Motala. Han har alltid varit en hängiven DX-jägare och alltid delat med sig av sina erfarenheter och sitt kunnade.
Jag jobbade i Sigtuna och hade just träffat en yl, sedermera xyl Gun-Britt. Lars och jag kunde då utbyta menande kommentarer på CW utan att den nämaste omgivningen förstod vad vi talade om.
Gun-Britt och jag gifte oss -65 och flyttade till Mjölby. När vi väntade vårt första barn bestämde vi att modernisera sändaresidan eftersom den knappast var barnvänlig med sitt öppna nätagg med kvicksilverlikriktarrör. En Heath-Kit SB400 från Schlumberger inköptes och vi låg på var sin sida om dubbelsängen och sorterade motstånd, kondingar, skruvar, brickor och muttrar mm innan byggat kunde starta. Under tiden försökte jag lära henne lite morse.
När bygget var klart villa jag höra hur det lät så jag bad Dag, -CGN, att sända med min nya tx och själv förflytta mig till föräldrahemmet på andra sidan sta'n för att lyssna. Plötligt, blan alla CW-signaler hör Gun-Britt något bekant och ropar till Dag 'Hör, det är ju Lennart som kallar'. Hon hade lärt sig min anropssignal på morse.
Ex SM5ARS, Arne, senare och mera känd som SM5CNQ bodde på samma gata som vi och återknöt bekantskapen från några år tidigare. Arne hade när vi först träffades en Central Electronics SB10B SSB-sändare, högsta mode och raritet för det var inte många som ens visste vad SSB var på den tiden. Därför fick vi väl i början ett och annat påpekande om dåligt modulationkvallitet. Vi byggde ett slutsteg med 2st EL34, gallerojordade, för att få lite mer effekt än de 10W som SB10an gav. DX-jakt på 80m var då att köra så många nya länder i Europa som möjligt på SSB och skaran utökades efter hand. SSB hade kommit för att stanna.
Arne släppte sedan sin licens en period men fick en nytändning hos oss och
inspirerad av min Heath-Kit byggsats köpte han en SB300 mottagare som han byggde ihop över en natt...
Vi flyttade sedan till nytt QTH i sta'n. Hus och trädgård kläddes snart med antenner. På taket satt en 3 el yagi för 10m. På våningen över oss bodde en familj som hade en dotter på gymnasiet. Hennes klasskamrater undrade varför det satt en så stor TV-antenn på taket och hon svarade då illfundigt att 'grannarna har en så stor TV'.
Club SK5AJ

Nu formades idéerna om en lokal radioklubb med huvudinriktning att köra tester, framför allt på CW. De stora målen var CQWW och SAC på CW och resulterade i ett antal 1:a platser i Europa och som bäst en 6:e plats Word Wide under åren 1968-79.
Drivande krafter i klubben var från början förutom SM5CAK Lars, SM5AD Staffan, SM5CNQ Arne, SM5CEU Leif och jag själv. Med från början var också SM5EAC Åke som sedan flyttade till Falun. Snart utökades skaran testintresserade med SM5BNZ Rolf, SM5DUS Anders, SM5ADN Lars och SM5AYY Stig.
Under sommaren 1971 sammantsällde jag regler och utformade ett diplom i klubbens regi. SCA - SWEDISH COMMUNES AWARD - som gick ut på att kontakta så många som möjligt av de då varande 272 svenslka kommunerna (efter kommunsammanslagningen 1971) och en sk RECORD-BOOK med regler, ansökningsblankett och lista över samtliga kommuner sammanställdes. Den första upplagan å 100 ex tog snart slut och inom några år var SCA den särklass största aktiviteten på 80m bandet.
Efter kommundiplomet kom sedan församlingsdiplomet som hade Nyköpings Sändaramatörer som huvudman. SCA har nu övertagit av SSA.
Andra aktiva medlemmar och/eller CW-operatörer har varit 4X4KK, CX1AAC , WB4NDR/SM5, SM5AXP Lennart, SM5CDU Janne, SM5CEU Leif, SM6CST Urban, SM6CTQ Kjell, SM5DIR Kent, SM5DJZ Janne, SM5DLR Göran, SM5DPS, SM5DQS, SM5DYQ Krister, SM5EQW Gunnar, SM5EXE Olle, SM5GLC Lasse, SM5GPP Torbjörn, SM0HEV Jens, SM5HPB Bosse, SM0JHF Henryk, SM0KCO Carlos och SM5VB Lennart.
Bästa resutlat i CQWW CW Contest uppnåddes 1979 med 5528 QSO och totalt dryga 6 milj poäng.
Det kostade dock på (både tid och pengar) att för varje år bygga nya och större antenner så i och med -79 års toppresultat avslutade vi vår hängivna testaktivitet.
Numera träffas klubbmedlemmarna ett par gånger om året och pratar gamla minnen.
Under denna tid flyttad Gun-Britt och jag till Hassla, utanför Skänninge coh hyrde där i 5 år (69-74) en stor gård som hette Hassla Gästgivaregård.
​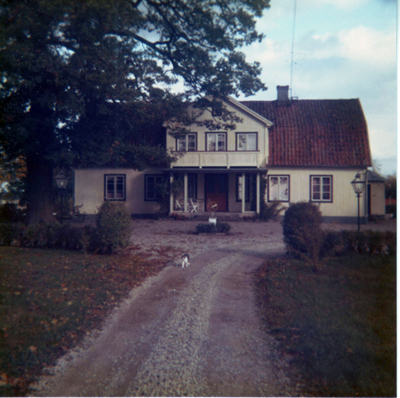 ​
Huset var 18m långt och stora salongen var 52kvm stor med breda golvtiljor och öppen spis. Tomten var på 15 000 kvm vara 10 var gräs som jag klippte med en handriven motorklippare. På vinter var det att skotta med skyffel de 60m upp till stora vägen. Men det var en härlig tid och det fanns gott om utrymme för antennexperiment. Mitt på gården stod en stor ek som var 25m hög och som snabbt förlängdes med maströr till ca 30m som stöd för dipoler. En fristående fackverksmast på 22,5m kom också upp och fick bl a bära 3el yagi för 20m och 2 el quad för 40m. På en av skorstenarna satt en yagi för 10m och en quad för 15m.
Under denna period föddes också vårt andra barn som snabbt lärde sig och vid ett tillfälle då vi satt och fikade vid köksbordet såg vi plötsligt ett par barnstövlar på väg uppför stegen till pappas antenn.
Arne, -5CNQ ville lämna 'storstadslivet' bakom sig och mer hängivet ägna sig åt amatörradions fröjder. Han hyrde ett torp på Lunds Backe ca 1 km norr om vårt QTH med en vidunderligt utsikt över Skänningeslätten.
Några antennanekdoter är dock värda att nämnas.
1. Efter att ha experimenterat på Lasses, SM5CAK, gård St Ängesby med 3 el trådyagi för 80m insåg vi att vi behövde komma upp mkt högre i luften eller också köra vertikalt. Sagt och gjort och man tager... Med hjälp av 5 st bevattningsrör byggde vi en 25m mast som dock, pga att rörens skarvar var tämligen böjliga och behövde stagas i varje skarv. Till detta använde vi bindrep från skördetröskan som det fanns gott om. För att lyfta åbäket byggdes en hjälpmast. I denna konstruktion hängdes sedan en 2 el vert Quad som kunde fasas i två riktningar. Antennen fungerade alldeles utmärkt och slog dem mesta i SM på den tiden. Men, ack, konstruktion var för vek och ned rasade hela eländet efter bara några dagar. Året var 1974.
2. Experimenten med 2 el vertikalpolariserad fasbar quad för 80m gav oss dock blodad tand och till CQWW CW 1976 och 1977 sattes quaden upp i en lina från 120 m höga södra masten uppe på Bondebacka, dvs Långvågs-stationen i Motala. Första QSO efter första anropet var med W7 , längst ut på Vancouvers västspets. Ant var riktad mot sydost, alltså långa vägen. Han hördes sedan dygnet runt, på natten korta vägen och på dan långa vägen.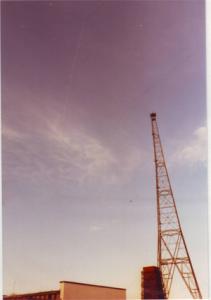 Norra masten
3. 1979 skulle vi slå till ordentligt. Vi ville kunna beama i alla riktningar. Efter att länga ha studerat och funderat kring Phased Arry Tecnology beslutade vi oss för att prova en 4 el fasad array bestående av 4 vertikala 80m-dipoler där fasningstekniken utnyttjade egenskaperna hos Wilkinson power dividers för att släcka ut sidoloberna och interferens mellan dipolerna.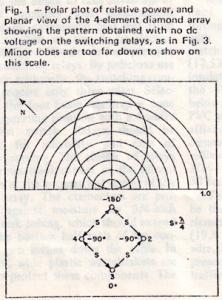 Arne, SM5CNQ och jag höll på i 3 da'r och knöt linor, kopplade kablar, hissade bärlinor i norra masten på Bondebacka. På onsdagseftermiddagen var vi klara. Antennen hängde på plats och det var dags för prov. Vi ropade upp Lasse, SM5GLC i Linköping och fick bra rapport. Sedan vände vi fasningen år andra hållet med hjälpl av ett sinrikt knappsystem inne vid riggen. Lasse sa att han inte kunde höra oss längre, vi täcktes helt av en relativt svag ry-stn på frekvensen som han tidigare inte lagt märke till. Allt gott och väl. Perfekt. Arne och jag åkte hem för vila oss, belåtna med vårt jobb.
Nästa morgon ringde Bosse, SM5HPB och talade om att man ringt från Bondebacka och bett oss komma och ta hand om alla trådar som låg över hela anläggningen.... Antennen hade frostat under natten och rasat ner av tyngden.
Det vara bara att åka tillbaka och reda upp eländet men på fredagen var allt uppe igen och vi vara klara att starta testen. Antennen satt sedan uppe ända till på söndagvällen då den på nytt rasade i backen. Operatören för tillfället blev mycket snoppen då bandet plötsligt totaldog. Som tur var hade också en 80m-dipol på ca 90m höjd så att vi kunde köra test-tiden ut.
4. Problem hade vi ju råkat ut för tidigare och redan skapat oss ett talesätt: "Antenner som sitter uppe är i alla fall inte för stora". I höststormarna -69 blåste alla våra antenner sönder dygnet efter avslutad SAC foni och vi hade 2 veckor på oss att bygga upp antennerna igen. CW-delen genomfördes och dygnet efter blåste allt ner igen....
5. Quadens år, -72. Nu skulle byggas en 40m quad. Vi köpte 8 långa bambuspröt som lindes med glasfiberväv och målades med 2-komponets färg. Kryssfästen tillverkades och trådar klipptes till. Upp kom antennen och var riktigt stilig.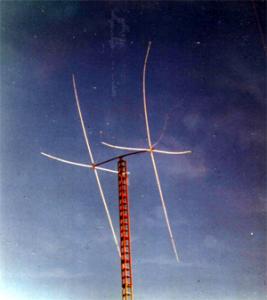 - MEN - Dagen före testen bröts boomen på mitten och det såg eländigt ut. Skam den som ger sig. Boomen förstärktes och rätades med hjälp av långa gängade bultar som drogs för handkraft. Masten var klädd i rimfrost då vi började men efter ett par timmars arbete var halva masten fri från frost och det var dags för fika. Då gick strömmen i Hassla men vi värmde vatten med gasolbrännare och var snart uppe i masten igen. Som belysningshjälp hade vi monterat extraljusen på Åke Linds SAAB och riktade dem upp i masten.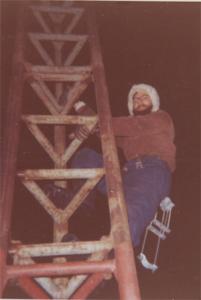 Arne på väg upp igen.
Fler bilder finns i 'Bildgalleri'.
1976 bildades radioklubben MSA, Motala Sändareamatörer med anropssignalen SK5SM. Klubben hade lokal på Rundradiomuseet och tillgång till goda antennmöjligheter, bl a i de 120 m höga antennmasterna.
Mer om klubben bildande mm finns att läsa på dess hemsida.
​
In English
​
Curiosities
​
My interest in technology in general and communication in particular started sometime in the 50's by building a so-called 'bear wire phone', soon followed by an 'electric' telephone between the boiler room and the garage. It was made of parts from headphones and mechano bits mounted on backelite plates.
​
My brother Gunnar, now SM5RCM, had made a GridDipMeter at school, a kind of degree project. This GridDippa proved to be useful for several things, among other things it was possible to connect a speaker and use it as a microphone. We broadcast on medium wave, close to Radio Luxenburg which was easy to find and pretty soon we started experimenting with how far we could reach.
​
It was about two blocks and we, i.e. Dag, SM5CGN, and I started to feel like 'radio pirates'. Dag had at that time got in touch with Anders, SM5BJO, and thus came in contact with amateur radio and we understood that a permit was required to broadcast.
​
The interest in amateur radio grew and many hours were spent listening to SM5WE, Eivin on 40 m AM. But it was CW we were going to learn, so the beat oscillator was made to be able to listen to the telegraphy signals.
​
We began to practice telegraphy, sending and receiving, and after much tinkering we were ready for sampling at the end of 1959. We managed to pass the test for C-cert and the big moment when license and permit appeared in the mailbox was the 7/1 1960. The happiness was indescribable.
​
The station was soon soldered and a few days later the first QSO was held between SM5CBN and SM5CGN. There were many over the years, but pretty soon Dag moved away from the city and started studying and our paths parted and later only fleetingly crossed again and then.
​
In the logs from that time you will find many signals that are still found on the amateur bands and it is fun to reunite again in pure nostalgia gatherings and together remember how it was before.
​
Another amateur broadcaster who early on came to mean a lot to my amateur radio career is SM5CAK, Lars in Motala. He has always been an avid DX hunter and has always shared his experience and know-how.
​
I was working in Sigtuna and had just met a YL, later XYL Gun-Britt. Lars and I were then able to exchange meaningful comments on CW without the closest people understanding what we were talking about.
​
Gun-Britt and I got married in -65 and moved to Mjölby. When we were expecting our first child, we decided to modernize the transmitter side because it was hardly child-friendly with its open PSU with mercury rectifier tubes. A Heath-Kit SB400 from Schlumberger was purchased and we lay on each side of the double bed and sorted resistors, condings, screws, washers and nuts etc. before the building could start. In the meantime, I tried to teach her a little Morse code.
​
When the building was finished, I wanted to hear how it sounded so I asked Dag, -CGN, to send with my new tx and move myself to my parents' home on the other side of town to listen. Suddenly, among all the CW signals, Gun-Britt hears something familiar and calls out to Dag 'Listen, it's Lennart calling'. She had learned my call sign this morning.
​
Ex SM5ARS, Arne, later and better known as SM5CNQ lived on the same street as us and reconnected from a few years earlier. When we first met, Arne had a Central Electronics SB10B SSB transmitter, the highest fashion and rarity because not many people even knew what SSB was at that time. That is why we were reminded in the beginning about poor modulation quality. We built a power amp with 2 EL34s, grid-earthed, to get a little more power than the 10W that the SB10 gave. DX hunting for 80m was then to run as many new countries in Europe as possible on SSB and the group was gradually expanded.
​
Arne then let go of his license for a period of time but got a new lease of life with us and
inspired by my Heath-Kit kit, he bought an SB300 receiver that he put together overnight...
​
​
We then moved to a new QTH in the city. The house and garden were soon covered with antennas. On the roof sat a 3 el yagi for 10m. On the floor above us lived a family who had a daughter in high school. Her classmates wondered why there was such a large TV antenna on the roof and she replied slyly that 'the neighbours have such a big TV'.
​
Club SK5AJ
​
Now the ideas of a local radio club with the main focus on running tests were formed, especially at The CW. The big goals were CQWW and SAC on CW and resulted in a number of 1st places in Europe and at best a 6th place Word Wide during the years 1968-79.
​
The driving forces in the club were from the beginning in addition to SM5CAK Lars, SM5AD Staffan, SM5CNQ Arne, SM5CEU Leif and myself. SM5EAC Åke was also involved from the beginning, and he later moved to Falun. Soon the group of test enthusiasts was expanded with SM5BNZ Rolf, SM5DUS Anders, SM5ADN Lars and SM5AYY Stig.
​
During the summer of 1971 I compiled rules and designed a diploma under the auspices of the club. SCA - SWEDISH COMMUNES AWARD - which was to contact as many as possible of the then 272 Swedish municipalities (after the municipal merger in 1971) and a so-called RECORD-BOOK with rules, an application form and a list of all municipalities were compiled. The first edition of 100 copies soon sold out and within a few years SCA was by far the largest activity on the 80m band.
After the municipal diploma came the parish diploma, which had Nyköping's Broadcasting Amateurs as the principal. SCA has now been taken over by SSA.
​
Other active members and/or CW operators have been 4X4KK, CX1AAC, WB4NDR/SM5, SM5AXP Lennart, SM5CDU Janne, SM5CEU Leif, SM6CST Urban, SM6CTQ Kjell, SM5DIR Kent, SM5DJZ Janne, SM5DLR Göran, SM5DPS, SM5DQS, SM5DYQ Krister, SM5EQW Gunnar, SM5EXE Olle, SM5GLC Lasse, SM5GPP Torbjörn, SM0HEV Jens, SM5HPB Bosse, SM0JHF Henryk, SM0KCO Carlos and SM5VB Lennart.
The best result in the CQWW CW Contest was achieved in 1979 with 5528 QSO and a total of just over 6 million points.
​
However, it cost a lot of time and money to build new and larger antennas every year, so with the -79 year top result, we ended our dedicated test activity.
​
Nowadays, the club members meet a couple of times a year and talk about old memories.
​
The house was 18m long and the main salon was 52sqm with wide floorboards and a fireplace. The plot was 15,000 square meters, of which 10 were grass that I cut with a hand-powered motor mower. In the winter it was shoveling with a shovel the 60m up to the main road. But it was a glorious time and there was plenty of room for antenna experiments. In the middle of the yard stood a large oak tree that was 25m high and which was quickly extended with mast tubes to about 30m as support for dipoles. A free-standing lattice mast of 22.5m also came up and had to carry 3el yagi for 20m and 2 el quad for 40m. On one of the chimneys sat a yagi for 10m and a quad for 15m.
​
During this period, our second child was born who quickly learned, and on one occasion when we were having coffee at the kitchen table, we suddenly saw a pair of children's boots on their way up the ladder to Dad's antenna.
Arne, -5CNQ wanted to leave the 'big city life' behind and devote himself more devotedly to the joys of amateur radio. He rented a cottage on Lunds Backe about 1 km north of our QTH with a wonderful view of the Skänninge plain.
However, some antenna anecdotes are worth mentioning.
1. After experimenting on Lasses, SM5CAK, farm St Ängesby with 3 or wire yagi for 80m we realized that we needed to get up much higher in the air or also drive vertically. No sooner said than done and you take... With the help of 5 irrigation pipes, we built a 25m mast which, however, due to the fact that the joints of the pipes were quite flexible and needed to be braced in each joint. For this, we used tying ropes from the combine harvester, which were plentiful. To lift the river, an auxiliary mast was built. In this construction was then hung a 2 or vert Quad that could be phased in two directions. The antenna worked just fine and beat most of them in the Swedish Championships at that time. But, alas, the construction was too weak and down the whole misery collapsed after only a few days. The year was 1974.
​
2. However, the experiments with 2 or vertically polarized phased quad for 80m gave us a taste for the CQWW CW in 1976 and 1977 the quad was set up in a line from the 120 m high southern mast up at Bondebacka, i.e. the Longwave station in Motala. The first QSO after the first call was with W7, at the far end of Vancouver's western tip Ant was directed to the southeast, i.e. the long road. He was then heard around the clock, at night the short way and at night the long way.
​
3. In 1979 we were going to make a big splash. We wanted to be able to beam in all directions. After a long time of studying and thinking about Phased Arry Tecnology, we decided to try a 4 el beveled array consisting of 4 vertical 80m dipoles where the beveling technology took advantage of the properties of Wilkinson power dividers to extinguish the side lobes and interference between the dipoles.
​
Arne, SM5CNQ and I were at it for 3 days tying lines, connecting cables, hoisting support lines in the northern mast at Bondebacka. On Wednesday afternoon we were done. The antenna was hanging in place and it was time for tests. We called Lasse, SM5GLC in Linköping and got a good report. Then we turned the bevel the other way with the help of an ingenious button system inside the rigging. Lasse said that he couldn't hear us anymore, we were completely covered by a relatively faint shiver on the frequency that he hadn't noticed before. All well and good. Perfect. Arne and I went home to rest, satisfied with our job.
​
The next morning Bosse called SM5HPB and told us that they had called from Bondebacka and asked us to come and take care of all the wires that were all over the plant.... The antenna had frosted during the night and collapsed under the weight.
It was just to go back and sort out the misery but on Friday everything was up and running again and we were ready to start the tests. The antenna was then up until Sunday when it collapsed on the ground again. The operator at the moment was very stunned when the band suddenly died. Luckily, we also had an 80m dipole at about 90m height so that we could run the test time out.
4. We had run into problems before and had already created a saying: "At least antennas that are up are not too big". In the autumn storms of -69 all our antennas blew apart the day after the end of the SAC phony and we had 2 weeks to rebuild the antennas. The CW part was carried out and the next day everything blew down again....
​
5.Year of the Quad, -72. Now a 40m quad was to be built. We bought 8 long bamboo rods that were wrapped with fiberglass fabric and painted with 2-component paint. Cross fasteners were made and threads were cut. Up came the antenna and was really handsome.
​
- BUT - The day before the tests, the boom was broken in half and it looked miserable. Shame on those who give up. The boom was reinforced and straightened with the help of long threaded bolts that were pulled by hand. The mast was covered in hoarfrost when we started, but after a couple of hours of work, half of the mast was free of frost and it was time for coffee. Then the power went out in Hassla but we heated water with a gas burner and were soon up in the mast again. As a lighting aid, we had mounted the auxiliary lights on Åke Lind's SAAB and directed them up the mast.
In 1976 the radio club MSA, Motala Transmitter Amateurs was formed with the call sign SK5SM. The club had premises at the Finnish Broadcasting Company and access to good antenna possibilities, including in the 120 m high antenna masts.
​
More about the club's formation can be found on its website.